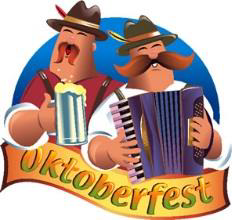 Oktoberfest
The dance will take place on Saturday, October 28 at the Chambers Hill Fire Co. Social Hall. Doors will open at 4 PM for those who want to come early and eat their dinner there. Music will be provided by The Whooo from 5-9 PM. We will have lots of different foods, door prizes, and raffles. Tickets will be $8 for adults and $4 for children 12 and under and are on sale now before and after church.
If you would like to donate a prize for the raffles, please bring it to church at any time and make sure that Judy Krovic gets it. You may also leave it in the choir room, but be sure to mark it so that we know it's for Oktoberfest!
We are also asking for donations of desserts to be sold during the evening. Please sign the sheet at church if you are able to bake. Bring your dessert (UNCUT) that evening and give it to the food servers. They will cut it and put it out to be sold.
Gather all your friends and relatives and come to the dance! It's quite a family event! There will be something for everyone to enjoy!